May 3-8, 2009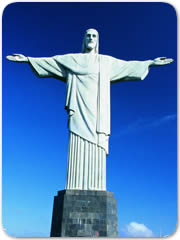 Venue:

The special session on "fine sediments processes in ports and navigational channels" will be held on the first day of the conference in the city Rio de Janeiro. The conference will continue in Paraty city, a small historic town founded by Portuguese settlers in 1667.

Registration will be open on Sunday, 16 to 18h (see attached map) at Othon Palace Hotel.
Monday 4th, morning, buses will take the participants to the conference place (CPRM in the map - 404, Pasteur Avenue, Urca), and back to the hotels at the end of the day.
Tuesday morning transportation will be also provided to take everybody to Paraty, and Saturday back to Rio. The return trip will be scheduled in order to attend the participant's schedules.

Options for transport Airport/Hotel in Rio de Janeiro:
Special taxi: befor exiting arrival door, price about R$80 (~US$35)
Bus Real FRESC√O, R$5

For pre- or pos- conference trips in Brazil you may contact:

Travel agency in Rio de Janeiro
Sonho Tropical (Ms. Beth)
Email: stropic@uol.com.br

Travel agency in Paraty
Paraty Tours (Mr. Sebastian)
Tel: +55 24 3371-1327
Email: paratytours@paratytours.com.br



Accomodation:

Important: When you contact the hotels, please mention the Intercoh'09 Conference.
Also, all hotels in Paraty listed here are a walking distance far from the Conference Place, as you may see here in the map.